Jazz Guitarist, Writer
"Wright is thoughtful in his writing and on the guitar he can articulate seamless, fiery ideas. He can also express great tenderness. Wright may not be a household name, but he should be." — All About Jazz
"The quality of his playing is exceptional ... In sheer color and variety, in the depth of its characterization and the exceptional range and refinement of his guitar playing, Mr. Wright imparts a powerful stature to everything that he plays." — Jazz da Gama
"Wright's guitar work is undeniably cool and stylish, clearly a product of the Jim Hall school ... jazz for the common man." — Elmore Magazine
"Wright's ability to balance technical prowess and beauty is truly the pearl within." — Jazz Sensibilities
"I liked the bottom of the sea level of your writing. Don't worry about discipline or guidance." — Anais Nin
New Poem: No harm
---
New Album (released December 2019)
---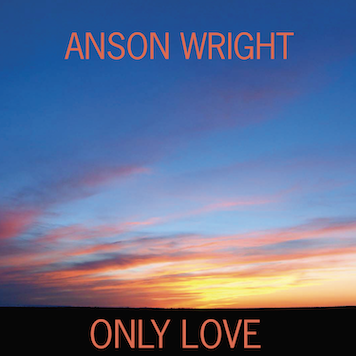 Order digital downloads here:
HOW TO ORDER CDs:
Because of COVID 19, all orders for physical CDs should be sent directly to Anson (anson@ansonwright.com). CDs are $15 each which includes domestic shipping. Payment can be made through PayPal or Venmo. Amazon and iTunes are unable to re-stock physical CDs at this time since the supply warehouse is closed.
What critics are saying about Only Love: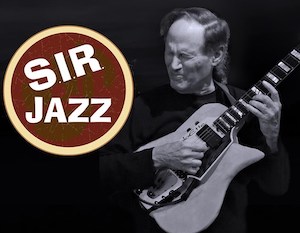 "Only Love is a strong outing for this multi-talented guitar player. He is gifted in writing music and literature, which gives his music a unique flow and focus. With a bright acoustic guitar sound and an ear for melodies, Wright is on his way to being a favorite for the guitarist. Only Love will please any jazz fan, and the guitarist certainly wants to check this one out and listen deep." read full review
— Steven Miller, Sound in Review
---
"Writ large across Only Love, Wright's guitar work is undeniably cool and stylish, clearly a product of the Jim Hall school. Nevertheless, there is a selfless quality to this quartet that's impossible to ignore ... Only Love is not pretentious. It doesn't walk around with its nose in the air, despite its graceful confidence and sophistication. It is, indeed, jazz for the common man." read full review
— Peter Lindblad, Elmore Magazine
---
"The quality of his playing is exceptional on this extraordinary album ... In sheer color and variety, in the depth of its characterization and the exceptional range and refinement of his guitar playing, Mr. Wright imparts a powerful stature to everything that he plays ... All in all this is music that is ravishingly subtle with emotions evoked as few can even hope to try." read full review
— Raul da Gama, JazzdaGama
---
"Wright is thoughtful in his writing and on the guitar he can articulate seamless, fiery ideas. He can also express great tenderness. Wright may not be a household name, but he should be. Only Love is worth the exploration." Four Stars. read full review
— Geannine Reid, All About Jazz
---
"Each player adds character to each composition with a penchant for group interaction. Compelled by their counterpart to press forward with potency. Only Love is a superior listen with enough variance in writing to establish a compelling listen throughout." read full review
— Jeff Becker, Jazz Sensibilities
---
"Richly swinging and sophisticated guitar tones akin to vintage Herb Ellis are rendered by Anson Wright ..." read full review
— George Harris, Jazz Weekly, March 30, 2020
---
"Swinging mightily as he leads his crew, classic jazz guitar fans have a bottomless sundae with a magnificent cherry on the top here. Killer stuff."
— Chris Spector, Midwest Review
---
"Anson Wright's Only Love is a wonderful album of stellar compositions with first-class artists who know how to deliver on Wright's vision for the music. Beautiful compositions, beautifully performed."
— Travis Rodgers, Jr., The Sentinel
---
"Anson is truly a master guitarist and composer ... I give Anson and all his players a Most Highly Recommended rating."
— Dick Metcalf, Contemporary Fusion Reviews
---
"Anson Wright isn't any an ordinary jazz guitarist ... it's all about the images, memories and emotions evoked."
— Marc Philips, The Vinyl Anachronist
---
National charting: Only Love has charted in the top five jazz albums at Roots Music Report for eight consecutive weeks through May 30, 2020, peaking at #1 and charting at #2 for three of those weeks. It has charted nationally for 13 consecutive weeks on Roots Music Report's Top 50 Jazz Albums, and it peaked at #3 after seven weeks on the Top 30 Jazz Charts in the North American College and Community Chart (NACC).
#1 on Roots Music Report's Top 50 Jazz Albums for the week ending May 30, 2020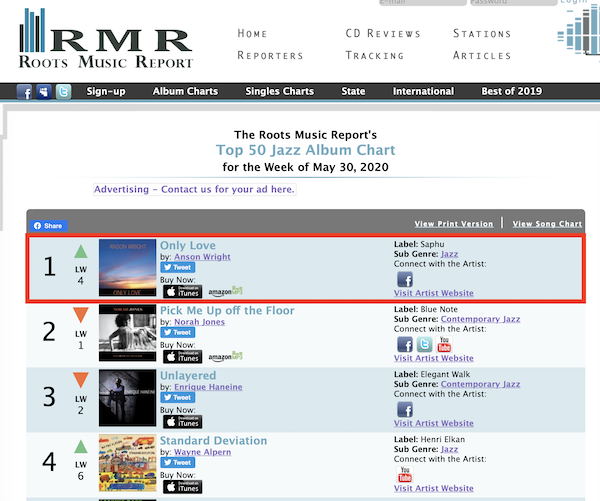 Anson Wright - "Rahway Blues"
---
Anson Wright - "Maddie in New York"
---
---
About Anson Wright
Master guitarist, composer, novelist, poet, and educator Anson Wright spent his formative twenties in New York City. A graduate of Princeton, Anson left post-graduate studies at Columbia to pursue his creative visions far from cloistered academia. Living in the East Village and frequenting performances by Charles Mingus at the Five Spot, Anson composed and performed music for finger-style guitar as well as immersing himself in the vibrant literary and alternative education scenes. In addition to pursuing his musical career, Anson completed his novel, Jericho, drove taxi, taught guitar and creative writing, ran a trucking company, and built cabinets.
Anson's early jazz studies began in clinics with the legendary jazz guitarist Howard Roberts. Later teachers on the West Coast included John Stowell and Jerry Hahn, as well as Charlie Parker protege Bob Newman and veteran pianist Harry Gillgam. Anson has performed throughout the United States and abroad and has worked with numerous jazz luminaries, including Nancy King, Mel Brown, John Stowell, and Glen Moore. With a style often compared to Jim Hall's, his playing has been lauded as combining "unbridled passion and elegant restraint," demonstrating what one reviewer calls a "finely honed musical intelligence." Anson's original guitar compositions have been choreographed and performed in modern dance, and his poetry has been set to modern dance and to music. He has taught at numerous schools, including New York University, Pacific University, and Portland Community College.
In addition to his CD releases, Only Love, State of Grace and Ukiah's Lullaby, Anson is the author of three books. He is one of the small number of jazz artists who have received critical acclaim as writers as well as musicians. Author Anaïs Nin praised the prose in his novel, Jericho: "I liked the bottom of the sea level of your writing. Don't worry about discipline or guidance." The National Endowment for the Arts provided the funding for his second book, Openings. Anson's first full-length poetry book, Sandstone Monastery, was released in 2004. Poems from Sandstone Monastery were set to music by guitarist John Stowell in the 2008 spoken-word CD, The Sky At Our Feet.
In 2012, Anson Wright's novel, Jericho, was released as an e-book. This book is available for download on your iPhone, iPad, or iPod touch with iBooks and on your computer with iTunes. Click on this link to learn more and purchase. Jericho iBook. A Kindle Edition is also available, click Jericho Kindle
"Written by Anson Wright at the beginning of his multi-faceted career, Jericho is a towering novel that holds an important place in the pantheon of American letters ... a masterful and transforming work."
— Michael Coffin, Informed Publishing
---