CDs and Books
Only Love, State of Grace and Ukiah's Lullaby can be purchased through iTunes and Amazon.
Sandstone Monastery and The Sky at Our Feet can be purchased below using PayPal.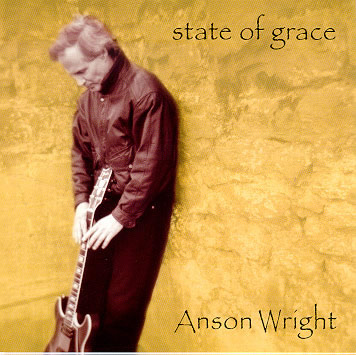 Sample tracks on State of Grace
Footprints
Stella
Nightfall
Stolen Moments
Easy Living
Carnival
Waltz for Evelyn
Alone Together
Hot House
Saturn's Return

---

Sample tracks on Ukiah's Lullaby
Ukiah's Lullaby
The Healer
Orion
Resurrection
Hope
Sometimes there are no words
Martin's Day
Kitten's Eyes
April Fools
Gifts

---

"Stowell's intricate acoustic guitar work is at the center of this fairly new-agey disc... His guitars are occasionally double tracked, so his own lines cascade down from each other. It's a stark beauty the evokes the Southwest, which is fitting since much of the content here is about Chaco Canyon, a sacred and historic Native American place in New Mexico. That content - poems by Anson Wright - is read with understated elegance by Stowell. The words are few but powerful, and the combination of music and poetry comes across as sincere and effective...With light electronic scores by the Open Path Music collective, this sparse album serves its purpose - giving Wright an aural landscape to tell his stories. "
Kyle O'Brien, Jazzscene

Books


"Sandstone Monastery is a lovely and loving book. The poems use the particulars of the poet's life to touch the threads that unite us all, the invisible structures that support the visible world. The yearning for the sacred permeates the pages."
Paul Pines, author of Adrift On Blinding Light
"Demonstrating a true mastery of memorable word imaging drawn from elements, experiences, and insights in respect to his personal life, Sandstone Monastery showcases the enthusiastically recommended poetry of jazz guitarist and novelist Anson Wright."
Midwest Book Review
"Written by Anson Wright at the beginning of his multi-faceted career, Jericho is a towering novel that holds an important place in the pantheon of American letters ... a masterful and transforming work."
~Michael Coffin~
Informed Publishing
Jericho can be purchased as a Kindle book or as an iBook.
Sandstone Monastery can be purchased using the PayPal link above.